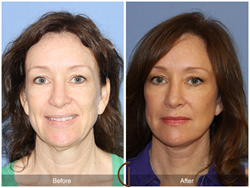 Newport Beach, CA (PRWEB)
July 02, 2015
Facial plastic surgery is about more than learning surgical procedures and executing them with care and precision. There is an art and science that goes into successful facial reconstruction and contouring. Dr. Kevin Sadati, FAACS, has had the honor of successfully reshaping the facial features and lives of more than 2,500 satisfied facelift and neck lift patients alone. Recently, Dr. Sadati was featured in Womans Day, Good Housekeeping and Redbook for his ability to achieve such natural looking results in facial plastic surgery, especially with facelifts and neck lifts.
I am able to bring together my two passions, medicine and art, when helping my patients achieve the life-enhancing outcomes they desire, explained Dr. Sadati. With each of my patients, my goal is to listen to what they envision, what they want from plastic surgery. Then, if their goals are realistic and we find they are in their best interests, we begin a journey of enhancement where I paint that picture for them.
Dr. Sadati is board certified in both facial plastic surgery and otolaryngology. Through extensive study and training, he has become highly experienced in his field, showing through countless procedures he has mastered working with the structural composition and shape of the chin, nose, eyes, neckline, forehead, cheekbones and ears. He not only has a passion for medicine and surgery, but for art as well. He brings an artistic background as both a sculptor and painter, experience that he uses to enhance his ability to bring a natural, balanced youthfulness to the faces of all his patients.
As a Newport Beach facial plastic surgeon, Dr. Sadati specializes in non-invasive surgeries that do not require general anesthesia. By handling procedures such as facelifts and neck lifts without general anesthesia, his patients do not need to worry about visiting a surgical center or hospital. All surgeries are done in his own facility, the Gallery of Cosmetic Surgery. In addition, recovery time is shortened, while expenses and risks associated with general anesthesia are reduced.
By handling everything in-house and eliminating the need for general anesthesia, our patients are able to receive the personalized care they desire without any extended downtime. I always make sure to do my homework on each of my patients to ensure I understand exactly what their concerns are, allowing me to address them accordingly, Dr. Sadati says.
Dr. Kevin Sadati is board certified by the American Osteopathic Board of Otolarynology Head and Neck Surgery (AOBOO-HNS) and one of the top facial plastic and ENT (ear, nose and throat) surgeons in California. He specializes in minimally invasive facial and nasal surgery and has over a decade of experience in his field. Along with being a member of the prestigious American Academy of Facial Plastic & Reconstructive Surgery (AAFRS), Dr. Sadati is also a Diplomate of the American Board of Cosmetic Surgery (ABCS). Through his extensive experience and skill he has become one of the most sought after Newport Beach and Orange County plastic surgeons for facelifts, rhinoplasty, liposuction and sinus surgery.
For more information on Dr. Sadati and the Gallery of Cosmetic Surgery, visit their website or check out Julys issues of Good Housekeeping, Womans Day or Redbook.
Related Study Press Releases